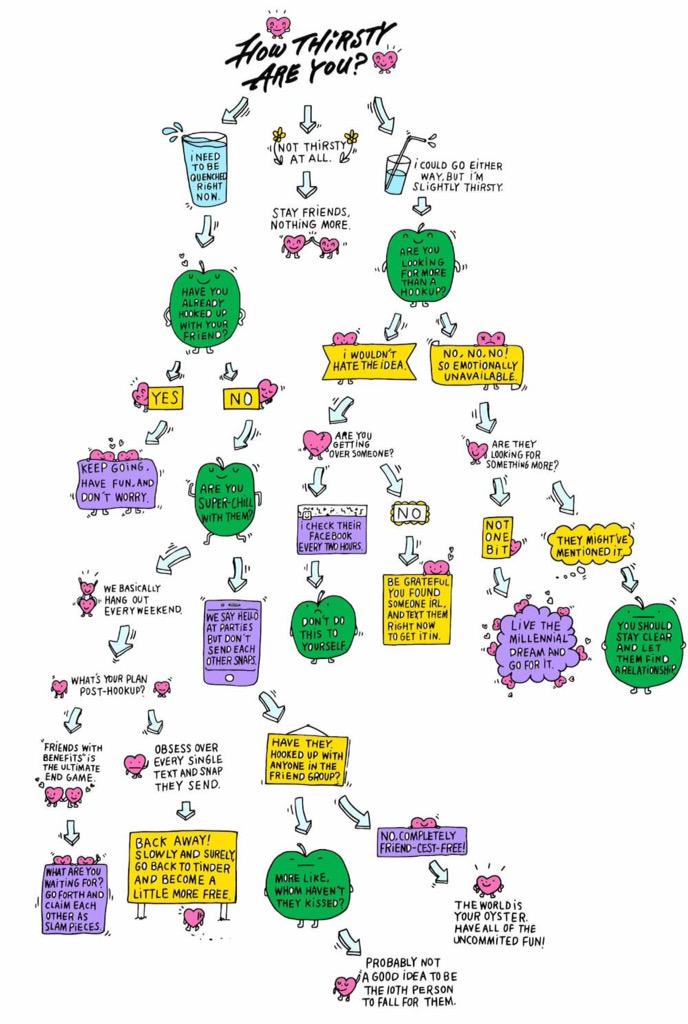 image found on a friend's Twitter page
So I haven't written anything for the last 3 years??? I don't know. I haven't really had anything to write about. Life is swell to be really honest. Maybe I'll write about it some other day when I even find time. If you can notice, this is just a quick post of random shit I find peculiar and interesting.
I came across this image on twitter and basically it concisely systematizes how to date/flirt/hook-up a la millennial. I have seen people struggle their hardest in the dating scene. It's like seeing baby seals getting clubbed to death. It is that bad and brutal. I am not gonna name drop because I might just be throwing shade in general. *insert Miranda Priestly GIF*
So here, I found a quirk sheet/flowchart of some sort. IT IS VERY RELEVANT AND TIMELY. It's not overly sappy. It's not overly dramatic. It's like the updated Sex and The City conversations.
I guess I just wanted to post this up somewhere for future references. I don't know. Maybe it can help you and your friends in need too? HAHA.
This is to be filed under things I find on the internet. Also, my good friend is single and would very much like to try this flowchart out. Send me a message on twitter if you're interested. ;)